TWO GUYS BLINDS / Roman BLINDS
Made to Measure Roman Blinds Dubai, UAE
Roman Blinds - Finely crafted with high-quality fabrics
Roman Blinds have been cherished for generations for their enduring appeal. These blinds are known for their soft, cascading fabric that creates an inviting and cozy atmosphere in any room. TwoGuys offers a contemporary take on Roman Blinds, combining traditional charm with modern functionality.
Classic Design with a Modern Twist
Our Roman Blinds feature a classic fold that adds depth and character to your windows. The clean lines and elegant fabric choices make them suitable for a wide range of interior design styles, from traditional to contemporary.
Endless Fabric Options
At TwoGuys, we believe that personalization is key to creating the perfect window treatments. Our Roman Blinds come in a vast array of fabrics, patterns, and colors. Whether you prefer a neutral shade that complements your decor or a vibrant pattern that adds a pop of personality, our collection has options to suit your style.
Leave the installation of your Roman Blinds to our experienced professionals. We ensure a perfect fit and a flawless finish so you can start enjoying the benefits of these blinds right away.
You can call the sales team for a no-obligation quotation on (04) 252 2025 or fill out the online contact form and someone will get back to you as soon as possible.
Below are some examples from our extensive catalogue.
Our Roman Blind Installation All Over Dubai UAE
Not sure where to start on your next blinds?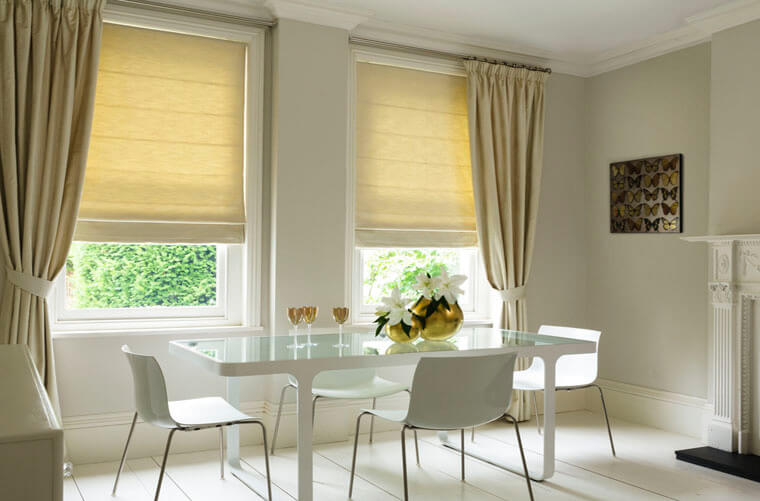 Inspire your space through art and design.
Your perfect blinds are a click away!
Discover Elegance in Every Shade – Schedule a Consultation Now!